The World's Best Nude Beaches and Resorts
The top 1,000 places to get naked
Other books by Lifestyle Press
Unlike other guides to beaches and holidays, this is the one that opens the door to the most adventurous and yet relaxing way to enjoy the natural elements and just being you.
The book – compiled by an international team of writers and photographers from both sides of the Atlantic – explores 57 countries around the world where holidaymakers can cast off their swimsuits. The US and Canada, the Caribbean, France, Spain, Italy, Greece, Portugal, Croatia, the UK, Germany, the Netherlands, Scandinavia, Australia, New Zealand and Latin America are just some of the places uncovered. We even highlight a summer beach in the Arctic circle where it's cool to go bare!
Alexandria Bay, Queensland, Australia
by Les Hotchkin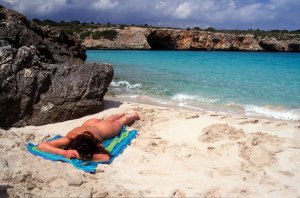 Cala Varques, Majorca
by www.parafotos.co.uk
This exciting and modern guide reflects the fact that in many places bathing naked has gone from minority pursuit to a major part of the tourist industry. So whether you're looking for somewhere completely secluded or packed with bare bodies, there is a range of places to tempt you to see what's so natural about bathing au naturel.
Why should a swimming costume come between you and the sea, sun and sand?
The World's Best Nude Beaches and Resorts: don't get undressed without it!
Caribbean/Latin America
North America
Southern Europe
Rest of Europe
Southern hemisphere
---
Copyright 2004-2023